Kentucky Opera is tremendously grateful for the support of our generous donors. When you join Kentucky Opera as a donor you become a partner in creating opera experiences that can only be found in Kentucky.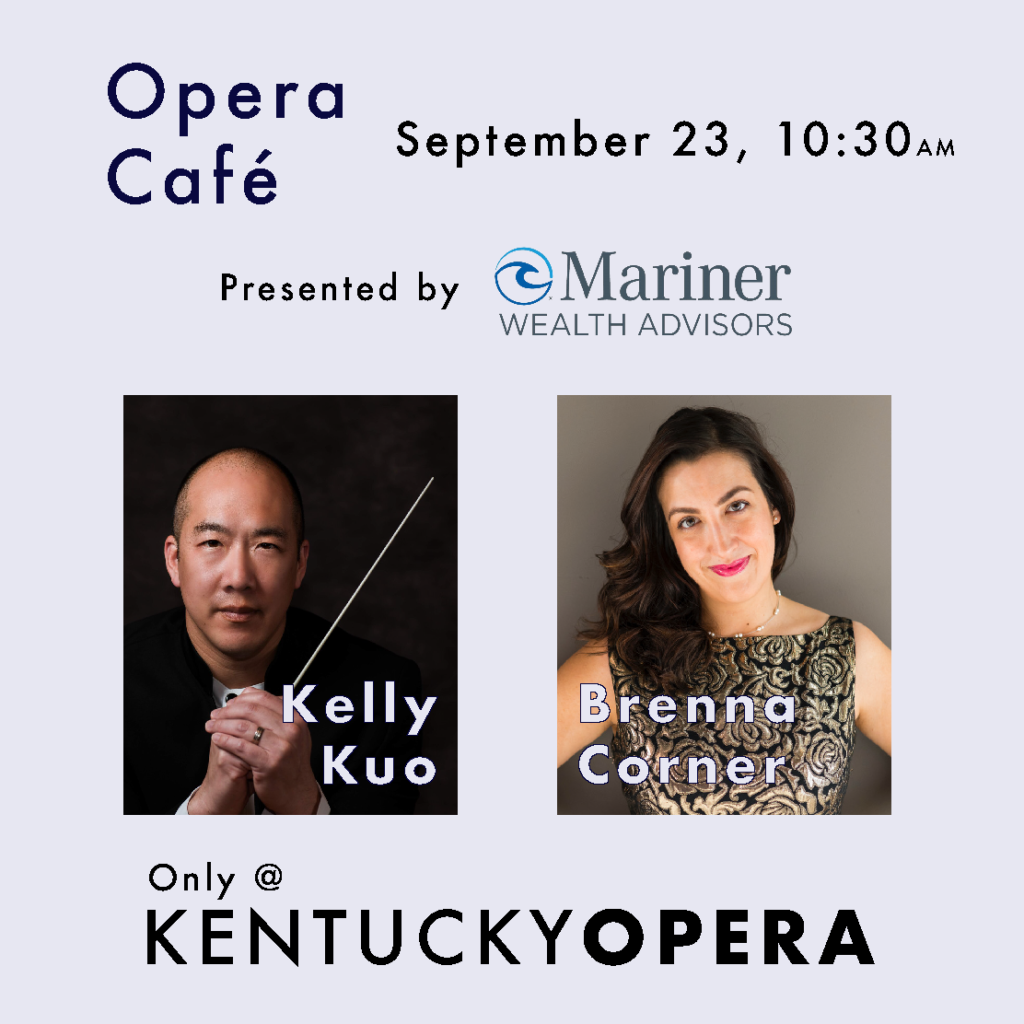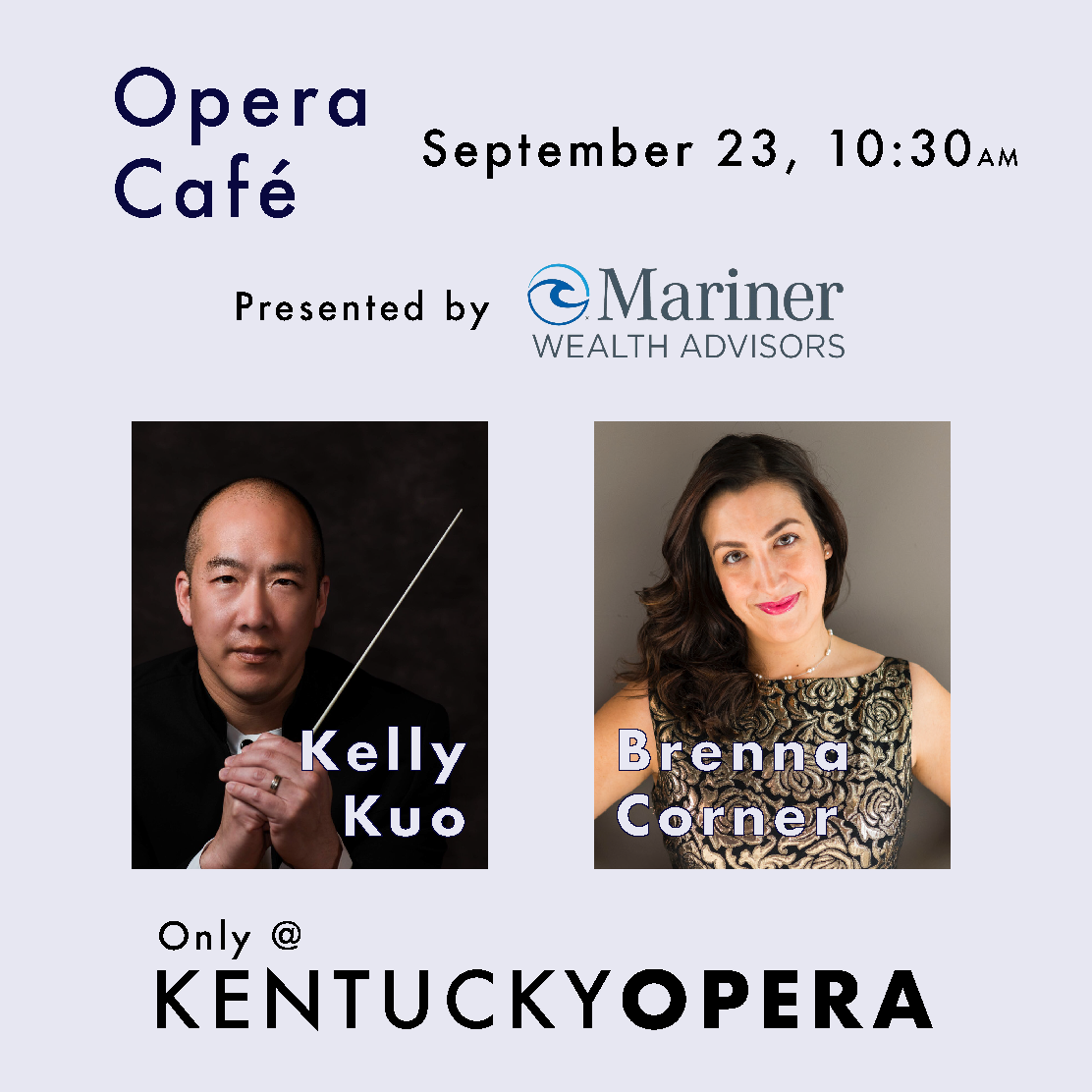 Opera Café
This ticketed event is open to donors at all levels. We thank you for your support and invite you to peek into the art-making process.
Hansel and Gretel with Kelly Kuo and Brenna Corner
Saturday, September 23 | 10:30am – 12pm | Kentucky Opera Center for Cultural Health
$25/person includes admission and a lite breakfast
Purchase tickets here
Pirates of Penzance Café
Saturday, February 10 | 10:30am – 12pm
Thank you to our Opera Café sponsor Mariner Wealth Advisors!
Salon Series with the General Director
This free event, open to donors at the $2,500+ level, is an intimate opportunity to hear from Kentucky Opera's General Director and invited guests. Topics are chosen that illuminate the inner workings of the opera world and demonstrate the power of your philanthropy.
Past discussions have included: What life is like for a traveling artist building family while living out of a suitcase; The process of commissioning and composing new works for voice.
2023/24 Series Dates (invitations forthcoming)
October 17, 2023
March 12, 2024
May 14, 2024
Corporate Partnership
With an exciting season of performances and events, there are many good reasons to consider sponsorship of Kentucky Opera. Customizable partnerships offer business the opportunity to sponsor a production, event, or artist.
Artist & Production Sponsorships
With over 11,000 attendees at our performances alone, production and artist sponsorships showcase your commitment and investment in our community.
Contact Jocelyn Hankins, Director of Advancement, to discuss your sponsorship opportunities. Call 502.561.7939 or email jocelyn_hankins@kyopera.org.
Ways to Give
Gifts of Cash
Send your check or money order made payable to Kentucky Opera through the mail to:
Kentucky Opera
Development Department
708 Magazine Street
Louisville, KY 40203
Gifts of Securities
Donate your stocks, bonds or other securities and earn tax benefits at the same time. If you have held your securities for more than one year, you may find that your gift will provide a twofold tax benefit, creating an income-tax deduction as well as helping avoid the capital-gains tax that would have been due on their sale.
Shares can be transferred electronically by your broker. Advise your broker that you wish to make a gift of securities to Kentucky Opera. Advise Kentucky Opera to expect the transfer, including name of stock(s) and number of shares, as your name may not remain attached to the securities transfer. Advising Kentucky Opera of an impending securities transfer will avoid delays in receipt, sales, and recording of your gift. Security transfer instructions may change, so it is important to verify Kentucky Opera's current information prior to each gift.
Stock Gifting Instructions
Financial Institution: Vanguard
Organization name: Kentucky Opera Association
Account #: 13986533
DTC#: 0062
Contact: calvin_fitts@vcs.vanguard.com
For our records, we ask that your financial management organization share a confirmation of the donation with Director of Advancement Jocelyn Hankins at jocelyn_hankins@kyopera.org.
IRA Rollover Gifts
If you are 70½ or older, you can make tax-free charitable gifts of up to $100,000 directly from your Individual Retirement Account. These gifts can be used to meet all or part of an IRA required minimum distribution.
If you have questions about how to give to Kentucky Opera, please contact the Development Department at 502.561.7939.